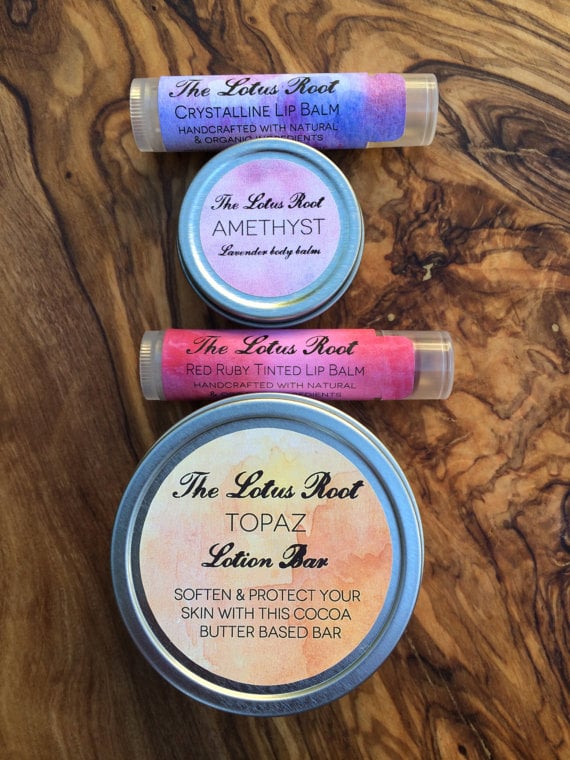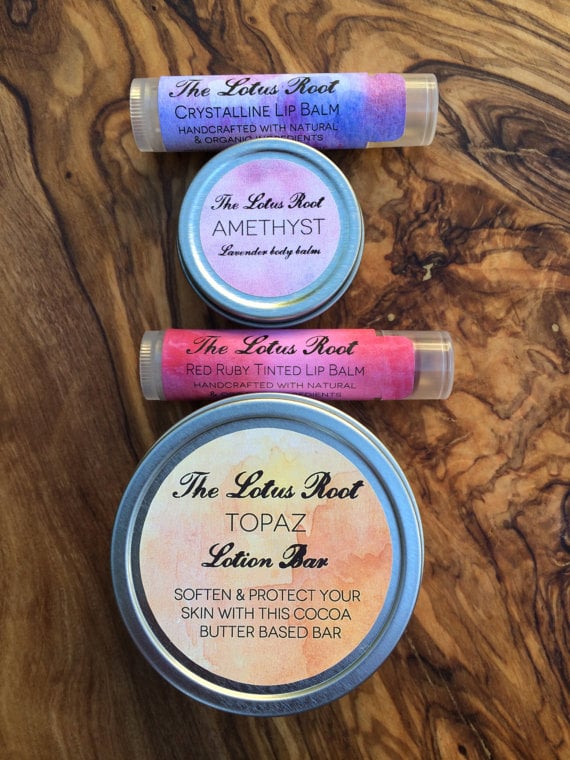 The Travel Kit - Lip Balm, Tinted Lip Balm, Amethyst Body balm + a Topaz Body bar
by Liz Davison
$34.00
{Due to popular demand please allow up to 2 weeks for me to create and ship your Travel Kit)
Keep your skin & lips soft and moisturized while on the go with The Travel Kit
Each item is 100% natural. I've used the highest quality oils, butters, waxes and herbs I could get my hands on. Organic whenever possible. Always non-gmo. No preservatives, phthalates, parabans, artificial fragrances or dyes.
This kit includes:
• 1 Amethyst Body Balm in a 1/2 oz, reusable tin
- A gorgeous, absorbable body balm made with skin loving herb infused oils + pure lavender essential oil. Perfect for dry, itchy skin.
• 1 Topaz Cocoa Body Bar (1 oz) in a 2 oz reusable tin
- A great preservative, water & chemical free alternative to lotion - it smells like chocolate and you will love how soft it leaves your skin.
• 1 Red Ruby Lip Tint in a clear, .15 oz recyclable tube
- a naturally tinted balm that will give you a healthy hint of color while it moisturizes, protects and softens your lips.
• 1 Crystalline Lip Balm, in a classic white .15 oz recyclable tube
- A light, 100% natural balm that glides on smoothly and has a subtle hint of vanilla.
This kit has your name all over it if:
• You're looking for a travel friendly, chemical free alternative to lotion
• You get turned off by products with petroleum, loads of unpronounceable ingredients or cheap gmo filler oils like canola & soy
• or if you want to give your lips a healthy tint (without a dose of lead!)
Items will be shipped in a cotton muslin bag in a recycled, eco-care padded envelope.
Your kit will be made-to-order: I make each batch fresh, so please allow up to 2 weeks for me to ship your items
Made with truly natural & pure ingredients:
Amethyst: Body Balm
*Jojoba oil, *cold pressed, extra virgin olive oil infused with *calendula (Calendula officials) and *plantain (Plantago lanceolata), beeswax, *lavender essential oil
Topaz: Lotion Bar
*Fair trade cocoa butter, *Cold pressed, extra virgin coconut oil, beeswax, *extra virgin, cold pressed olive oil
(**to those with cocoa butter allergies, please note that this is a cocoa butter based product.)
Red Ruby: Lip Tint
Ingredients: *jojoba oil infused with *fair trade vanilla beans, beeswax, *Cold pressed, extra virgin coconut oil, infused with wildcrafted alkanet root (Alkanna tinctoria)
(alkanet root is not recommended if you're pregnant or nursing)
Crystalline: Lip Balm
Ingredients: *Jojoba oil infused with *fair trade vanilla beans, beeswax, *Cold pressed, extra virgin coconut oil ( infused with *calendula (Calendula officials) and *plantain (Plantago lanceolata)
*certified organic ingredient
___________________________________________________________________
What people are saying about The Travel Kit
"They arrived, thank you! I love the smell of the cocoa butter, it feels like I'm wearing chocolate, which I love. :-) I'm glad they're hand crafted and truly natural, not almost natural, really natural ingredients which is hard to find!"
Kara S. – CA
"I've been using my products all day and, dang girl!! These are amazing! I love how moist and juicy the lip balms are-such good application and moisture. And I just laid myself down for bed all anointed with my yummy lavender and cocoa butter balms on my hands and elbows! What a luxurious feel and smell! I know I'm going to sleep like a dream! I also love the little sizes! I usually carry around a little clutch purse and I can fit all of these in there! I always need a lotion, but can never fit it in my bag! Total game changer! :D "
Rachael P. of Treetrunkwise Yoga -Seattle, WA
www.thelotusroot.com
no artificial fragrances or dyes
paraben free
preservative free
gluten free
soy free
phthalate free
no animal testing. ever
always non-gmo